Some people might be interested to know what the requirements are to be included as a search engine in Privacy Browser.
The search engine must work with Privacy Browser's default settings, like having JavaScript and cookies disabled.
The search engine must produce usable results, including image results.
Some search engines allow users to alter the default functionality, like the theme or pornography filtration levels, which usually requires cookies. This behavior seem reasonable to me, but default functionality of the website, like advancing pages in the search results, must work without cookies.
The current list of search engines is as follows.
Mojeek
Monocles
MetaGer
Google
Bing
Yahoo
Mojeek is the current default search engine, although their search results are not as robust as I would like, and I would be happy to switch if I could find something better.
Monocles is a newcomer to the list, and is quite good. I would like to make it the default search engine. My biggest concern is that, as a (highly) customized Searx instance, it will fall prey to the same rate limiting issues that have dogged other Searx instances.
MetaGer is quite good, but with default settings on Privacy Browser it includes ads that use a URL redirect to track users. I don't mind looking at ads, but I do mind when they look back at me. I would be very reticent to make a search engine the default if it returns results that use tracking URL redirects when I have at least one option that does not do so.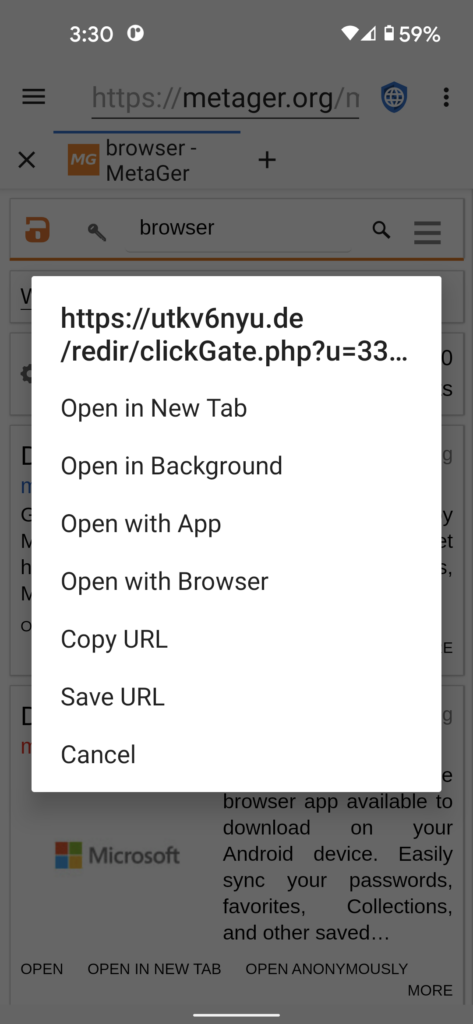 Google, Bing, and Yahoo are included because, despite none of those companies caring about your privacy, they all meet the two requirements above. Even though they would like to, they can't do much spying with JavaScript disabled beyond tracking which links you tap.
DuckDuckGo used to be the default search engine, but it was supplanted when their privacy chops started going down hill. It was removed in Privacy Browser 3.10 because it was no longer possible to do an image search without enabling JavaScript.
Searx was removed from the list because it couldn't consistently produce usable results. Qwant was also removed from the list because they also couldn't consistently produce usable results.
Startpage was removed entirely when they decided to require JavaScript.
Users can add whatever search engine they like using the custom option.