Privacy Cell now includes the status of the voice network when determining the overall security of the cell network. The overall network security level is set to be lowest of either the data or the voice network. Previously, it was set just on the status of the data network.
With this change, both the voice network and the data network descriptions on the main screen change color to match their status, where they were previously always blue.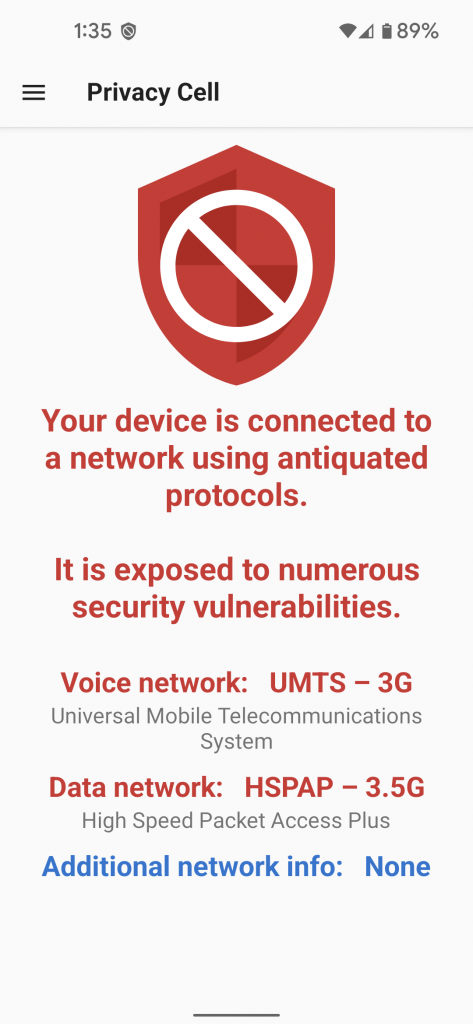 A bug was fixed that sometimes made it impossible to disable realtime notifications. Because Android's battery saving system likes to kill background services, Privacy Cell runs a periodic task that checks to see if realtime notifications are enabled, checks to see if the realtime notification service is running, and restarts the service if needed. However, sometimes it would take a long time for Android to check the settings stored on the device to see if realtime notifications were supposed to be enabled. If that happened, the periodic task would just assume the answer was yes and restart the service.
With this change, Privacy Cell checks the update notification preference at multiple different steps, and aborts if it is disabled.
Ahh, Android. Sometimes you drive me crazy. It is, without exaggeration, like trying to run a stable app on a system that is being attacked by a breakaway clan of chaos monkeys.
This release bumps the target API to 32 (Android 12L). It also includes the first full German translation.