Privacy Browser PC 0.1 was released on 11 March 2023. It is the culmination of a lot of work, but just the beginning what is needed to get Privacy Browser PC to the stage where it can create some serious browser competition on PCs.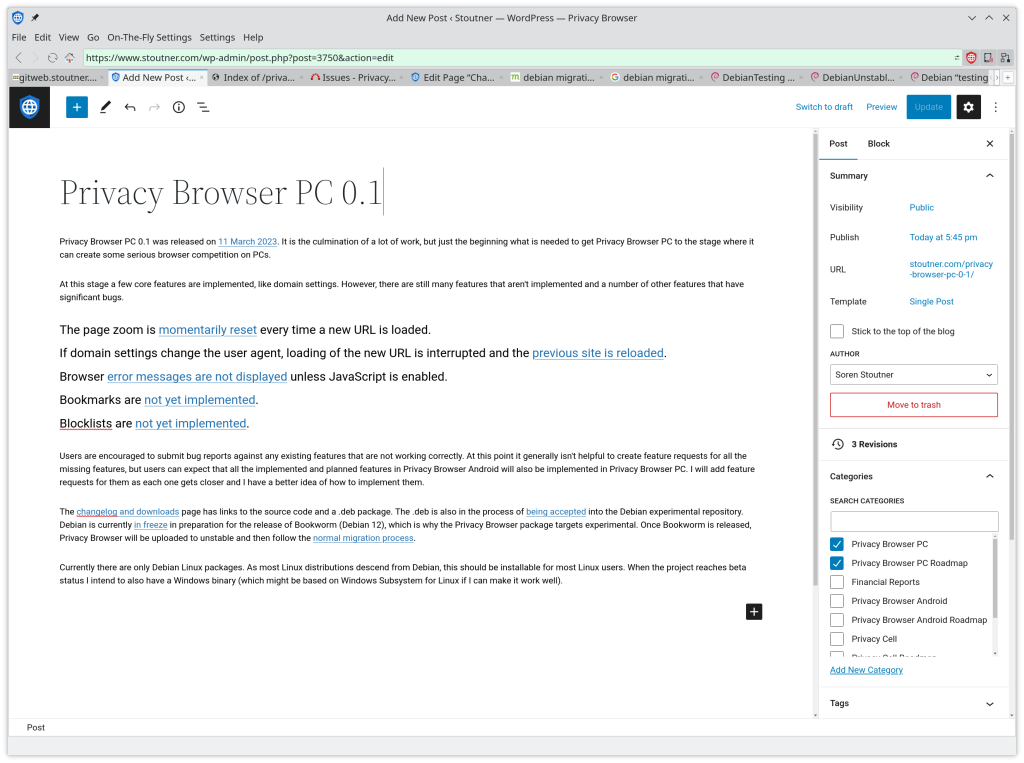 Users are encouraged to read the Handbook (press F1 inside the program). At this stage a few core features are implemented, like domain settings. However, there are still many features that aren't implemented and a number of other features that have significant bugs.
Users are encouraged to submit bug reports against any existing features that are not working correctly. At this point it generally isn't helpful to create feature requests for all the missing features, but users can expect that all the implemented and planned features in Privacy Browser Android will also be implemented in Privacy Browser PC. I will add feature requests for them as each one gets closer and I have a better idea of how to implement them.
The changelog and downloads page has links to the source code and a .deb package. The .deb is available in the Debian experimental repository. Debian is currently in freeze in preparation for the release of Bookworm (Debian 13), which is why the Privacy Browser package targets experimental. Once Bookworm is released, Privacy Browser will be uploaded to unstable and then follow the normal migration process.
Currently there are only Debian Linux packages. As most Linux distributions descend from Debian, this should be installable for most Linux users. When the project reaches beta status I intend to also have a Windows binary (which might be based on Windows Subsystem for Linux if I can make it work well).