Privacy Browser 2.15 has been released. A bug was fixed when changing user agents using domain settings. Previously, in some circumstances, when changing user agents it would force a refresh of the current page, which would interrupt the loading of the new page.
Privacy Browser now adapts the height of the drawer layouts to account for notches at the top of devices.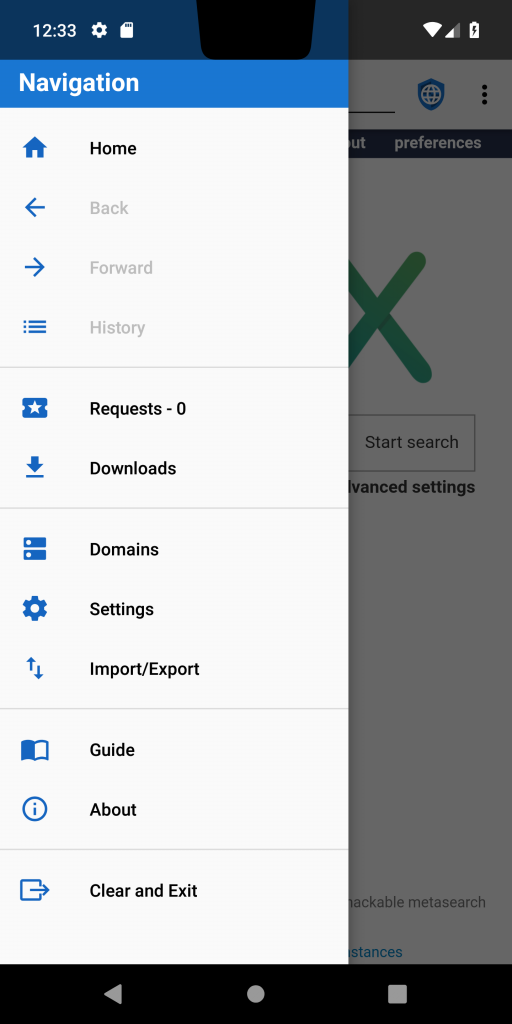 The URL syntax highlighting now calls out the principal domain instead of the entire domain. So in the past, www.stoutner.com would be highlighted, whereas now it is just stoutner.com. This helps prevent phishing attacks that use subdomains to pretend to be a different website, like www.trusted.bank.com.subdomain.of.evil.website.com.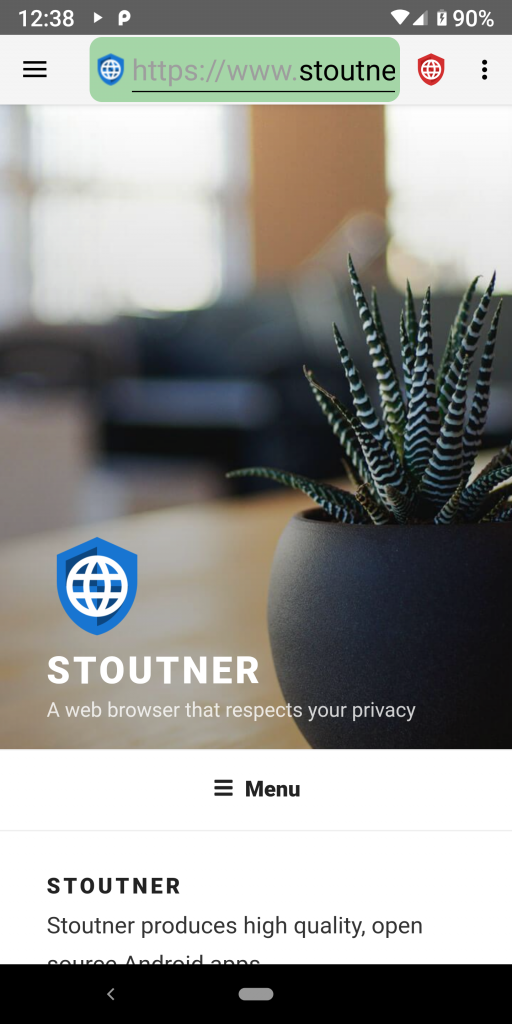 Selected text is now cleared when opening a drawer. Otherwise, the selection handles and the popup menu cover the drawer. The screenshot below shows the previous behavior.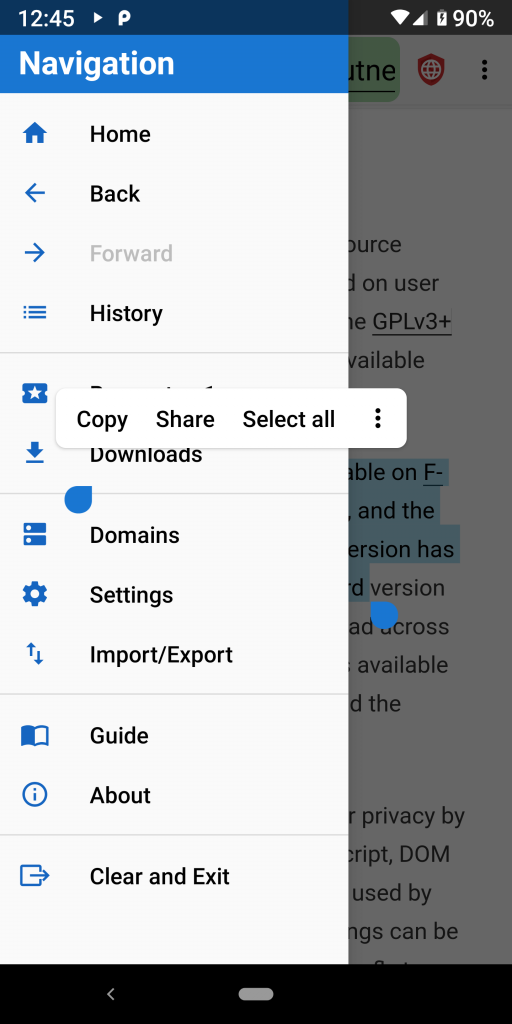 Two bugs were fixed with false positives on EasyList. One of them blocked all internal resource requests for pages hosted on Google Sites. The other blocked resource requests on engadget.com.
Support has been added for file:// and content:// URLs. This allows opening HTML files stored on the local file system. content:// URLs are provided by third-party programs, like file browsers.
The following preference names were changed to better match the pattern used by the other names that has developed over time. This does not effect the way the preferences are displayed to the users, as the preference names are internal and are not translated. However, the change in names causes Android to consider these as new preferences, which means they will be reset to their default values. Uses who currently have these set to something different than the default will need to reset them after upgrading to Privacy Browser 2.15.
| Old Name | New Name |
| --- | --- |
| javascript_enabled | javascript |
| first_party_cookies_enabled | first_party_cookies |
| third_party_cookies_enabled | third_party_cookies |
| dom_storage_enabled | dom_storage |
| save_form_data_enabled | save_form_data |
| fanboy_annoyance_list | fanboys_annoyance_list |
| fanboy_social_blocking_list | fanboys_social_blocking_list |
| default_font_size | font_size |
Privacy Browser is now registered as a web search provider. When users select Web search from the text selection menu Privacy Browser will be presented as an option.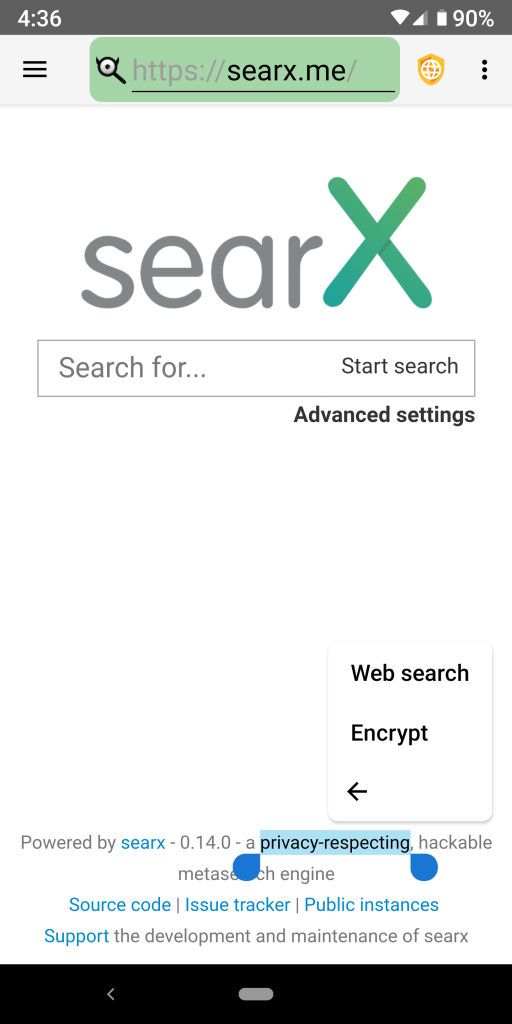 Instructions have been added to Guide > Tor regarding the downloading of files via the Tor network.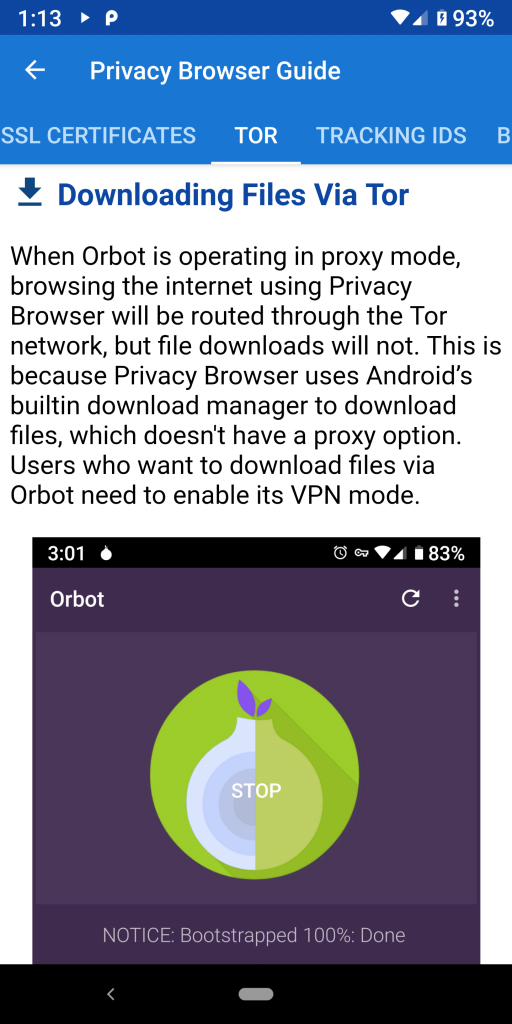 The swipe to refresh animation now has a dark theme. Previously it was blazing white.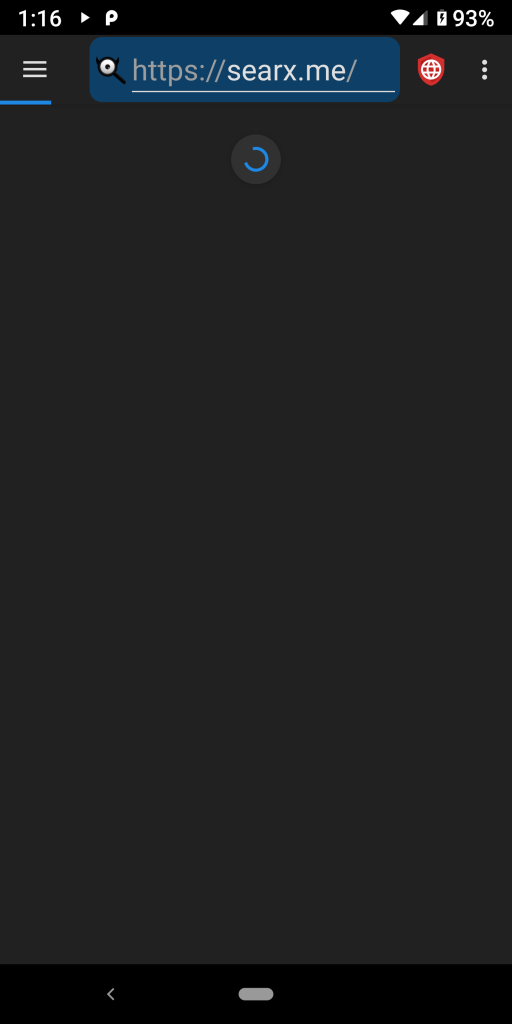 It is also now possible to use swipe to refresh in the View Source activity.
Google's Ad Consent library has been removed from the free flavor. This is significant enough that there is a separate blog post about it.
This release features a partial Turkish translation for the first time. The Italian translation has been updated by Francesco Buratti. The Russian translation has been updated. The Spanish translation has been updated by Jose A. León.
The next release of Privacy Browser will have the option to scroll the URL bar. I anticipate it will be the last release in the 2.x series. After that, work will begin on the 3.x series with the much anticipated tabbed browsing.