Revenue
Bitcoin: $2,340.12
Google Play: $546.85
Stripe: $209.32
PayPal: $121.29
Google AdMob: $101.16
Patreon: $73.28
Amazon: $10.30
Total revenue: $3,402.32
Bitcoin revenue comes from Bitcoin donations. Google Play revenue comes from selling the standard flavor on Google Play. Stripe revenue comes from Liberapay donations. PayPal comes from Liberapay and from direct donations. Google AdMob revenue comes from ads in the now discontinued free flavor. Patreon revenue comes from Patreon donations. Amazon revenue comes from selling the standard flavor on the Amazon Appstore.
There are 0.13943777 in Bitcoin Cash that I haven't yet cashed out, currently valued at $60.21. They will be included in next year's totals.
The revenue totals look good compared to last year, which came to $750.48.
Install Base
Google Play recorded 923 paid installation events (those that didn't result in an uninstallation in the first 15 minutes, which results in an automatic refund). But they show that the total number of active devices dropped from 1,040 to 803.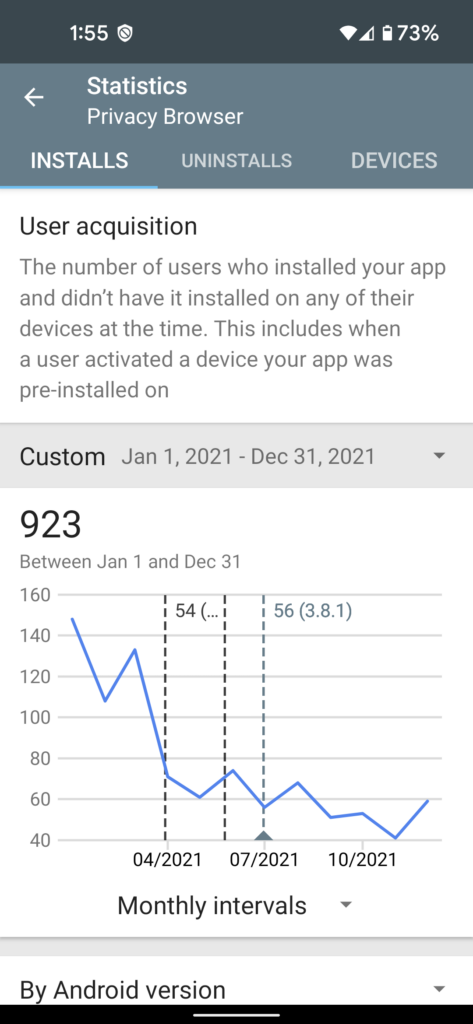 Based on the communication I receive from users, I think the majority get Privacy Browser from F-Droid. This is reflected in the revenue, which this year was made up by a large majority of donations versus sales.
Because the majority of the development effort is currently focused on Privacy Browser PC, there haven't been many releases of Privacy Browser for Android this year. I would expect interest in Privacy Browser will take off once the PC version becomes available.